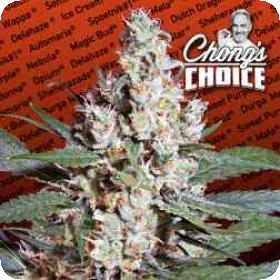 L.A. Amnesia Feminised Seeds
This strain is a sativa that gives impressive yields of extremely powerful buds. The THC count is superb and was created by combining Amnesia Haze is a potent Kush.
The flavour of the strain is deliciously hazey with a hint of earth and citrus. This is definitely a smoke for the connoisseurs and will not disappoint even the pickiest smokers.
The THC count is between 20 – 24% which gives is a hard hitting potency that keeps the brain buzzing while the body relaxes. Medicinally this strain is suggested for those suffering from pain and a lack of appetite.
L.A. Amnesia is a feminised strain and will only grow into female plants. Most growers much prefer feminised seeds as they mean no more dealing with males.
The male plants take up around half of a regular crop and can damage the females during the flowering period. This means that they have to be removed, which is a total waste of time and money.
Feminised plants are also usually higher in quality and uniformity than regular plants. For this reason some breeders prefer to use feminised seeds.
Female plants can be stressed into produce feminised pollen, however this should only be attempted by experienced breeders.
This strain needs 56 – 63 days to flower and can be grown indoors or outdoors.