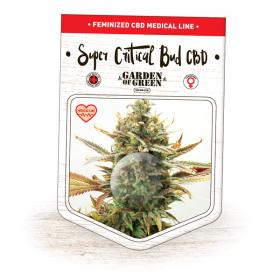 Super Critical Bud CBD Feminised Seeds
By bringing together Ed Rosenthal Super Bud and Critical XXX again we have created another ground-breaking super medical hybrid. Carrying all the Critical XXX traits, we are blown way by this powerful extra super fast strain producing enormous high yields in 50 days indoors.
The beautiful formation of these super buds is phenomenal and seeing is believing. Both parents are already famous for there high quality and fast finish, only this time it's better faster and stronger.
Whether it's commercial, recreational, medical or connoisseur you have chosen the perfect strain.