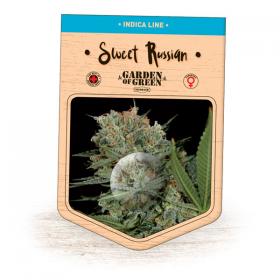 Sweet Russian Feminised Seeds
Sweet Russian is a cross between two indica strains, Black Domina and White Russian. The result is a short and compact plant with loads of thick buds.
The leaf production is minimal which makes this strain particularly heavy yielding. The effect is extremely relaxing which makes it perfect for restful introspection and shaking off the weight of the day.
This strain doesn't come on too strong which means it is ideal for medicinal users. The flavour is sweet and has a hint of citrus and earth.
This strain is feminised and will only grow into female plants. This makes them ideal for growers who don't want to breed their own crops.
For these growers the male plants are a total nuisance as well as a danger to the female plants. This means they have to be removed before they can do any damage.
Since around half of a regular crop is male this is usually a huge waste of time and money. Feminised seeds will also usually produce higher quality plants than regular seeds.
For this reason some breeders also prefer to use regular seeds, despite the difficulty involved in feminised breeding. These seeds also tend to be higher in quality and uniformity than regular seeds.
This strain has a flowering time of 50 – 55 days and can be grown indoors or outdoors.
Genetics:
Black Domina x White Russian