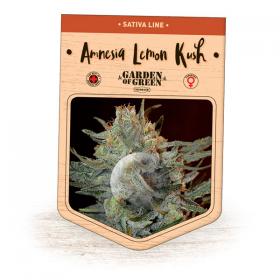 Amnesia Lemon Kush Feminised Seeds
Amnesia Lemon Kush is, funnily enough, a hybrid between Amnesia Lemon and Kush. This strain is extremely hardy and fast growing, ideal for all levels of growers.
She will deal especially well in Screen of Green systems, where she will branch in abundance. The smell is extremely strong and very citrusy with a hint of incense.
The effect is initially cerebral and psychoactive, but as the high goes on it drifts into the body and relaxes the muscles. 
This strain is feminised and will only grow into female plants. Feminised seeds are great for growers who don't plan on breeding their own crops. For these growers the male plants are not only useless but actually pose a threat to the females.
This means they have to be removed before they can do any damage. As half of a regular crop is male, this is a massive waste of time and money. Feminised seeds also tend to produce higher quality crops than regular seeds.
For this reason some breeders also prefer to use them, even though feminised breeding is extremely difficult. These seeds are also photo-period and will require a light cycle in order to flower. 
This strain has a flowering time of 65 – 70 days and should be grown indoors. 
Remember that the cultivation of cannabis seeds is illegal in some countries; please check the laws of your country  before attempting to cultivate cannabis seeds.