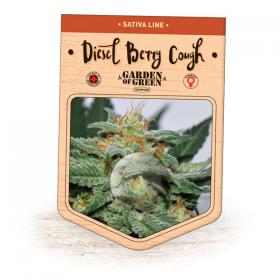 Diesel Berry Cough Feminised Seeds
This strain is a cross between Strawberry Cough and NYC Diesel. The strain is balanced and the effect is extremely relaxing with a clear headed energy. This strain can also help with insomnia whilst still allowing users to get things done.
The ideal strain for both day and for night, perfect for all sorts of growers and smokers. However the strain can act quite quickly and without warning, which can be startling for novice smokers. The flavour and scent of the strain is a mix of classic diesel and sweet fruit. 
Diesel Berry Cough is a feminised strain and will only grow into female plants. It is also photo-period and will require a light cycle to flower. Feminised seeds are ideal for growers who don't plan on breeding their own crops.
For these growers the male plants are a complete waste of time, space and money. This is because they can harm the female plants during the flowering period and have to be removed.
Feminised seeds also tend to produce higher quality crops than regular seeds. For this reason some breeders also use feminised seeds, even though feminised breeding is extremely difficult. 
This strain has a flowering time of 56 – 63 days and should be grown indoors. 
Remember that the cultivation of cannabis seeds is illegal in some countries; please check the laws of your country  before attempting to cultivate cannabis seeds.