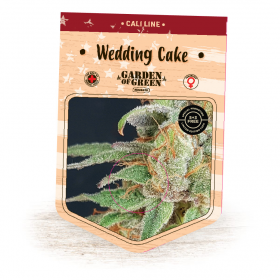 Wedding Cake Feminised Seeds
Wedding Cake (a.k.a. Pink Cookies) was created by crossing Cherry Pie with Girl Scout Cookies. It is a pure indica strain with good yields and very high THC levels.
This is a medium-sized plant that can grow to a height of between 110 and 140 cm. It does well both indoors and outdoors, although it will not be ready to harvest until mid-October, which prevents growing in higher latitudes unless the greenhouse is used as it will be prone to early autumn weather if it is inclement.
Indoors yields of around 450 gr/m2 can be obtained in 50-55 days of flowering. Outdoors each plant is capable of yielding up to 550 gr.
The taste of Wedding Cake is sweet, earthy and with a hint of vanilla. The production of THC is very high and can exceed 25%.
Being 100% indica would expect a deep sense of physical relaxation as is indeed the case, but added to this is a very happy, uplifting high with some euphoria and a tendency to engage creatively with those who are thus disposed.
It's going to make some laugh loud, and maybe it's going to be funny-seekers.
Therapeutic benefits are claimed to be an appetite stimulant, for pain relief, chronic  stress disorders, migraines, depression, rheumatism, insomnia and the side effects of cancer treatment.
Genetics:
Cherry Pie x Girl Scout Cookies