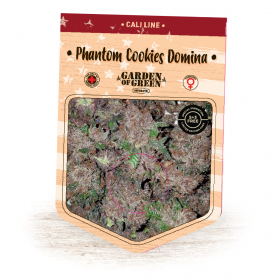 Phantom Cookies Domina Feminised Seeds
Phantom Cookies Domina is 70% sativa and is a three-way strain being the result of a cross between Grand Daddy Purps, Cherry Pie and Black Domina.
Yield, taste and potency all coalesce into a sensational new strain from Garden of Green. 
This is a truly beautiful plant which displays some lovely purple colouration towards the end of florescence. It reaches 130 - 150 cm. tall and, when grown indoors, takes 8 - 9 weeks to finish flowering with yields of 550 gr/m2.
Outdoors harvest is in the first half of October in the northern hemisphere and each plant can produce around 650 gr. 
The buds have a distinctly "candy" scent and are liberally covered in sparkling crystals of resin. Flavours include cookie dough and cherry pie. THC levels are at 21% with 1% CBD. Despite being 70% sativa, the initial effect is very much that of an indica, a full-blooded, physical sensation which then evolves into an uplifting, euphorically happy state full of energy and motivation with full-focus at its core. 
Medicinally this strain is recommended for recovering from cancer treatments, ADD/ADHD, depression, fatigue, inflammation, muscle spasms and stress relief.