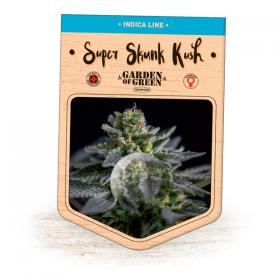 Super Skunk Kush Feminised Seeds
SUPER SKUNK KUSH is a cross between an elite Super Skunk clone with a selected pure Kush. She is a vigorous, fairly compact plant that develops well with an ordered structure. The exuberant branches become full of large buds.
The resin has a profoundly sweet aroma with spicy Afghan hash back notes. It's effecrs are immediate with an initial euphoric high leading to a deep state of mental and physical relaxation. Suitable for a broad range of medicinal users due to its high Cannabinoid levels.