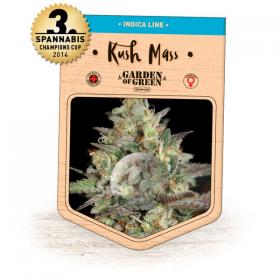 Kosher Kush Feminised Seeds
Don't miss out on the opportunity to experience the 2011 High Times Cannabis Cup Indica winner. This strain is a product of both Kosher and OG Kush. It is known for its amazing quality and effect and is now available in a convenient feminised seed form.
For those who can appreciate the power of a superior-quality indica, the Vault is proud to offer this incredible strain developed by DNA Genetics and perfected with genetically superior plant specimens by the expert breeders at Reserva Privada. This is a very stable and highly dependable strain of cannabis, making it easy to cultivate with nearly 100% germination.
It's clear to see why this strain has been the subject of such lavish praise. Its parent strains are legendary in their own rights and have each been the recipients of their share of accolades. The THC and CBD content have not been tested or disclosed but the potent couch-locking effect are a clear indicator of its power.
These plants grow well indoors but have a very distinct and highly-permeable aroma. Without adequate air filtration and ventilation the secret will be out! Due care should also be exercised when cultivating Kosher Kush outdoors as the smell will extend to a sizable radius.
The plants are typically short enough to accommodate any growing space or method. They do best indoors in hydro setups but an experienced soil grower should be able to get favourable results as well. Indoor flower time is approximately 9 weeks and these plants respond best to a 16/8 light cycle during vegetation adjusted to 12/12 during flowering.
Outdoor plants will provide comparable yields based on their size (which is typically about 20-30 percent larger than indoor plants. Harvest can commence by late September and can continue through mid October in the Northern hemisphere.