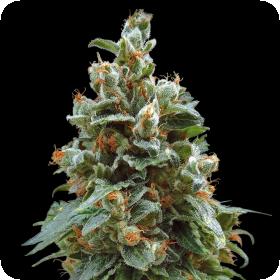 Vanilla Kush Feminised Seeds
It's the winner of the 2009 High Times Cannabis Cup and is an amazing newer indica-dominant strain willed into delicious reality by the breeders at Barney's Farm. It is a robustly fragrant, flavourful and potent variety of cannabis, and is regarded by many as one of the best that Barney's Farm has ever delivered.
Vanilla Kush gets its genetics from crossing Kashmir with Afghan. It presents many large and thick colas with beautfully red and gold-speckled trichome.s As the name suggests, it gives off a dense, thick aroma reminiscent of wild vanilla bean mingled with lavender. The endnote gives an olfactory punch with a sharp, oily citrus zest. Light up Vanilla Kush and the already strong aromas grow even more intense. The flavour is sweet and matches the bouquet.
The average Vanilla Kush plant reaches about 90-100 cm in height when grown indoors. The seeds germinate predictably and grow consistently under a wide range of growing methods and conditions. Flowering time is about 60 days or about 8 weeks on average. Outdoor growers should plan harvest near the end of September. THC content is very high and the end product provides a long-lasting and relaxing effect. It is recommended for medical use and does a good job of relieving muscular pain and tension.
Why Use Feminised Seeds?
Feminised seeds are bred in a manner that excludes male chromosomes. Engineering them this way ensures that each plant flowers and produces hardy, resinous buds in a quantity and quality most growers appreciate and desire. Cultivating them is easy and they produce a very generous yield. Feminised seeds are the ideal choice for growers who possess little or no prior experience. They require less maintenance and pruning and the seeds have an exceptionally high germination rate.
Please remember that the growing of cannabis plants and the cultivation of seeds is illegal in some countries - please check the laws of your country and don't be growing any plants if it is against your country's laws.