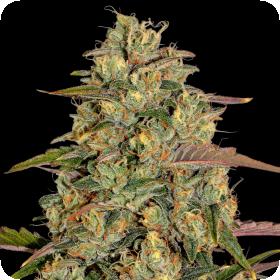 Amnesia Lemon Feminised Seeds
It's the winner of the 2007 Cannabis Cup: Sativa Cup and it is well deserving of its accolades. Barney's Farm Amnesia Lemon is a potent hybrid that is the result of crossing Barney's Skunk #1 phenotype with Amnesia Haze - yet another award winning plant in their lineup.
It was bred to take home this coveted award and not only is it an extremely high quality hybrid, it has a personality all its own.
Amnesia Lemon has the flavour of Skunk #1 and it packs the same punch. Its effects are immediate and long-lasting with characteristics that are definitively sativa.
What sets this plant apart is its flowering cycle. In just 9 to 10 weeks, it produces ample numbers of buds with long and hardy colas that offer a very distinct lemony citrus taste. Growers will be amazed at how quickly it grows and with how little effort on their part.
The effects of Amnesia Lemon are also very sativa in their interactions with the head. The feeling is mellow, uplifting, and delivers an overtly peaceful and long-lasting experience thanks to its very high THC concentration.
Indoor growers will appreciate how well Amnesia Lemon takes to a variety of grow methods including hydroponics and will also appreciate how simple it is to care for and maintain.
This is a very good strain for new or hobbyist growers who want to be able to grow a productive plant without needing an abundance of knowledge or expertise. The fact that these seeds are feminised makes them all the more easy to work with as well.
Take advantage of the opportunity to enjoy a strain that has not only earned awards and praise but is also a dominant strain in a broad range of popular cannabis hybrids.
Please remember that the growing of cannabis plants and the cultivation of seeds is illegal in some countries - please check the laws of your country and don't be growing any plants if it is against your country's laws.
 
Genetics:
Soma's Amnesia Haze x Lemon Skunk.