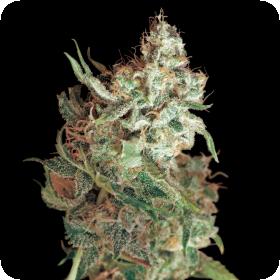 Red Dragon Feminised Seeds
Red Dragon is another Barney's Farm strain built on their Red line genetics. It is the product of crossing Himalayan Kush with Utopia Haze - a popular Brazilian sativa used often by Barney's for breeding. The result is an amazing sativa-dominated hybrid that produces buds that deliver an effect that is bold, prolonged, even playful and, best of all, totally sativa.
Barney's Farm has achieved a greater than 90% stability with Red Dragon. They germinate well and grow quickly. The seedlings are very hardy and present with a deep red colour almost from the beginning.
Long before it is ever harvested, Red Dragon will provide much aesthetic appeal in your cannabis garden or grow room. When mature, this plant really lives up to its name. Its appearance only adds to its mysticism and charm, having the look and colour of dragon's skin. It has a white scaly crystal coating with red hair-like cilia that evoke images of dragon's breath.
Red Dragon grows well both indoors and outdoors and only grow to about 2.5 to 3 feet average. It branches nicely with resinous colas and will flourish even better when provided room to stretch. Flowering time is about 8 weeks and yields are above average.
But the one thing that really earns the moniker for this strain is the very high THC content that its buds contain. It is as if the plant is hoarding it like treasure in a dragon's lair. Needless to say, the effect is extremely powerful and immediate. This is an exceptionally strong high - practically narcotic - but finishes off with a warm, long-lasting couch-locked stone effect. The flavour dances on the palate with hints of sweet tropical guava. Best of all, Red Dragon has a long shelf life and will maintain its vigour for months.
Please remember that the growing of cannabis plants and the cultivation of seeds is illegal in some countries - please check the laws of your country and don't be growing any plants if it is against your country's laws.