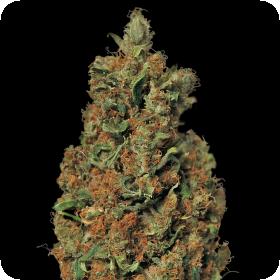 Red Diesel Feminised Seeds
Quite literally one of the best Hybrids from coast to coast. On the west coast, you have the Californian indica. On the east coast, the New York City Diesel. When these two come together, the result is a truly superb hybrid with all the best traits of both parents.
When Barney's Farm decided to develop Red Diesel, the goal was to increase the potency and weight of the New York City Diesel while holding on to its distinctive flavour.
The look of Red Diesel is very interesting. The flowers turn red as the plant matures. The fruity aroma takes on a density and zest over time. The end product has a bit of a bite that is reminiscent of pepper and is all Diesel.
Just to add to its appeal, Red Diesel is also very easy to grow. It requires no special skills and is very self-reliant. That said, it does respond exceedingly well when provided with a little care and pruning.
The seeds germinate very quickly and have a very short flowering cycle - just about 9 weeks on average.
The plants grow well either indoors or out and produces an impressive yield. They grow to a be of medium height with good branching of resinous buds. Make sure it has space to stretch, though, as this will promote good growth and THC production.
Northern Hemisphere growers should plan to harvest Red Diesel mid-October.
The buds may not look dense but there will be many them and the quality of the end product is enviable - very high in THC with a good balance of CBD. For higher concentrations, let Red Diesel grow an extra week.
It provides a clear-headed effect with some very typically sativa undercurrents. It is an almost Zen balance of the best parts of high quality indicas as well as sativas.
Please remember that the growing of cannabis plants and the cultivation of seeds is illegal in some countries - please check the laws of your country and don't be growing any plants if it is against your country's laws.