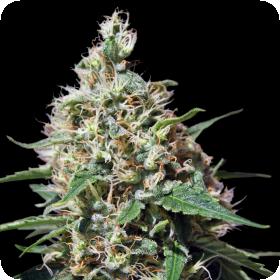 Peppermint Kush Feminised Seeds
Barney's Farm Peppermint Kush is a wonderfully aromatic strain. It is produced by crossing Stella Blue with Nepali Indica.
The result is a hybrid with all the best qualities of each: a distinctly peppery flavour compliments of the Stella and a cool, minty endnote courtesy of the Nepali.
Its genetics are indica-dominant which shines through in the plant's small stature and relatively short flowering period.
The average Peppermint Kush plant only grows to about 80-90 cm. It grows particularly well indoors and lends itself to growing areas with limited vertical and horizontal space.
Outdoor and greenhouse growers in cooler climates will also be impressed by its hardy growth and resistance to colder weather. This makes it a good choice for a late season harvest.
The flowering period for Peppermint Kush is 50-55 days, shorter using grow methods like SOG and ScrOG and longer using outdoor methods.
An average Peppermint Kush plant yields a huge harvest: close to 500 g per square metre. The end product is also top shelf with its exotic aroma and unique flavour with a powerful THC content and high CBD concentration.
It is the perfect choice for those who appreciate a deep, heavy, relaxing high that is perfect for recreational and medicinal use. It also makes for a great muscle tension-reliever and can help shake off the effects of insomnia and other sleep disorders.
All over the world, Barney's Farm is celebrated for their development of new and innovative cannabis strains. Their goal is to produce strains that flower quickly with superior yield.
By purchasing cannabis seeds from Barney's Farm, growers contribute to the advancement of their efforts to develop an ever-increasing line of new and stable strains that are simple to grow and flower consistently.
Barney's Farm is widely recognized as a global leader in top-quality cannabis seed production.
Please remember that the growing of cannabis plants and the cultivation of seeds is illegal in some countries - please check the laws of your country and don't be growing any plants if it is against your country's laws.