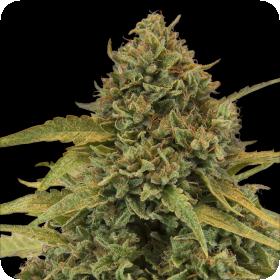 Bad Azz Kush Feminised Seeds
Bad Azz by Barneys Farm is a truly wonderful strain endorsed by the rapper of the same name. The strain comes from pre 98 Los Angeles genetics and is an extremely potent Kush strain.
The rapper is well known for his involvement with Snoop Dogg in this crew which is known as the Dogg Pound. This strain is extremely powerful and wonderfully resinous which has tested at an astonishing THC levels.
It is an extremely unique strain with a complete knock out effect. This strain is not only potent but gives large buds and an extremely heavy yield.
Bad Azz has the classic Kush scent and an extremely long lasting effect which is ideal for those who suffer from pain or issues with their sleep. The plants will need to be tended to carefully and groomed in the vegetative state to ensure that they can stretch out properly.
This strain is also feminised meaning that the seeds will grow only into female plants. A number of growers have turned to feminised seeds as a simpler and higher quality alternative to regular seeds.
Regular seeds will usually grow into a combination of male and female plants, usually around half of each. If the grower has no plans to cultivate their own crops the male plants will need to be removed before the flowering process begins.
Since so many of the regular seeds are likely to grow into male plants this undertaking can be a waste of time and of money for the grower. Feminised seeds not only remove this issue but will grow higher quality and extremely uniform plants.
Feminised seeds are not exclusive to growers however, extremely talented breeders can use them as well. The female plant can be stressed in such a way that she releases a feminised pollen of her own. This pollen can then be used to fertilise another female and create feminised seeds.
Bad Azz can be grown indoors and outdoors making it ideal for all sorts of growers and breeders. The strain has a flowering time of around 55 days and should be harvested in mid - late September. It gives an impressive yield of 650 g/m2 and can grow to a height of 100 - 110 cm.
Genetics:
Original OG x Urkel x Afghan Kush