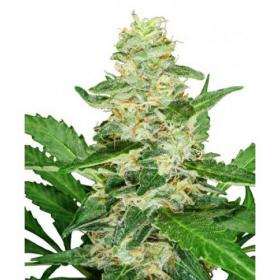 Super Skunk AUTO Feminised Seeds
Since 1990 Super Skunk has been huge in the cannabis community primarily because of its vigorous and potent nature.
Now Sensi has combined the already phenomenal Super Skunk genetics with cannabis ruderalis in order to transform it into an auto-flowering, feminised strain with all of the attributes of Super Skunk that we know and love.
This strain has the ability to produce two, completely female, crops in one season of outdoor growing. Even for growers who are not as experienced as others these plants are easy to grow and extremely rewarding. The growth pattern is consistent and beautiful.
The plant can be kept small and compact while still producing large colas comprised of huge, sticky calyxes. The buds are coated in resin and extremely potent, the effect is powerful and forceful as well as very long-lasting.
Sensi calls this 'one of the few cannabis strains which may require more experience to smoke than she does to grow!'
An auto-flowering strain has the ability to flower without the need of specific light cycles. They simply flower at a certain point in their cycle they flower of their own accord which makes them much more user-friendly.
The auto-flowering nature means that the flowering time of the plant is reduced. Another excellent attribute of auto-flowering strains is the fact that they can be kept extremely short and compact without in any way diminishing the yield.
This is utterly ideal for growers who have limited growing space.
The feminised aspect of the strain means that the crop will be entirely female saving time, money and space. This attribute is desirable as many growers have no need for the male plants since they have no use for the pollen.
Many growers have to wait until they can recognise the male plants and simply remove them from the crop. Feminising seeds means that all of the crop is dedicated to the productive females and that growers no longer need buy twice as many seeds as desired female plants.
Super Skunk thrives in a sunny or Mediterranean environment where it can receive plenty of warmth and sunlight, or it can be grown indoors under lights. Its flowering period is just 60 - 65 days, it is 80% Indica, and has a heavy yield.
Please remember that the growing of cannabis plants and the cultivation of seeds is illegal in some countries - please check the laws of your country and don't be growing any plants if it is against your country's laws