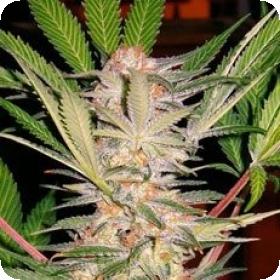 This phenomenal strain S.A.D, or Sweet Afghani Delicious, was born from a complex inbreeding programme. One of the most powerful mothers available to the Sweet Seeds breeders, Black Domina, was self pollinated and S.A.D was born.
This Black Domina strain has been selected since 1998 and has in fact won a prize in the Valencian Cannabis cup in 2004.
Since S.A.D was born is has one a fair few cups of its own, for example is won 1st place in the Best Indoor Variety category at Spannabis Cannabis Champions Cup in 2009. As this plant reaches maturity it will be coated in thick, abundantly resinous, buds.
The aroma is an intensely sweet, yet musky, as is the flavour, this comes from its Afghan ancestors. Another excellent attribute of this plant is that it is extremely resistant to pests and fungus, this means that it can be grown outside, although it does tend to thrive best inside.
This renders it considerably more accessible to many different growers and breeders.
This strain comes in the form of feminised seeds which have become more and more popular over the last few years. This is because they are a huge time, money, and effort saver for any growers who have no desire to breed their own crops.
For these growers male plants are complete nuisance, not only are they pointless, but they can actually be damaging to the valuable female plants. So it is far easier for those growers if the male plants are simply not there, that is where feminisation comes in.
Feminised seeds will only grow into female plants, completely removing the male plant issue. They have also been proven to be significantly higher in quality and in uniformity than regular seeds as well as adding potency to 80% of strains.
They are also an excellent option for the more advanced breeder as they can still be used for future crop cultivation.
There is a method by which female plants can be convinced to produce female pollen, this pollen can then be used to fertilise a female, and thus feminised seeds are born.
As previously mentioned this strain can be grown indoors and outdoors, the indoor yield is 400 - 600 g/m2 and the outdoor yield around 350 - 550 g/plant. Its flowering time is an impressive 8 - 9 weeks and it should be harvested at the end of September.
Please remember that the growing of cannabis plants and the cultivation of seeds is illegal in some countries - please check the laws of your country and don't be growing any plants if it is against your country's laws.