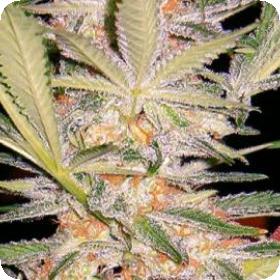 S.A.D. FAST Version Feminised Seeds
S.A.D. Fast Version is one of the sweetest strains available from Sweet Seeds. It is also one of the most aromatic. It is a hybrid that gets its genetics from a cross between a select S.A.D. Automatic and a clone of a Black Domina.
The original cross dates back to 1998. Crossing the auto-flowering and non-autoflowering strains results in an F1 non-autoflowering hybrid that flowers a week faster than the automatic, hence the "fast version" specification.
The signature aroma is extremely musky and sweet and literally reeks of great quality weed. The buds are huge and fat, very dense and practically dripping with resin.
Those familiar with the smell of Afghan will agree that S.A.D. Fast is an amped-up version of that in smell and flavour.
This mostly indica variety packs quite a wallop with THC counts in the high to very high range. CBD's content is on the high end at 1.8% making it a strain heralded by some as an effective choice for various medical applications.
Indoors, S.A.D. Fast grows well using a variety of methods including hydro and soil. The plants are small enough to work well in a SOG or ScrOG setup but the yields are not effected much by the growth method.
Under controlled grow room conditions, these plants will produce about 450 g per square metre. Outdoors, the plants thrive but are less predictable in terms of overall yield. The range for outdoor plants is between 350 and 550 g per square metre.
Flower time for S.A.D. Fast is only 6-7 weeks and, like most strains, will be more potent if harvested later than opposed to earlier. If you're not in a rush, you will be rewarded for your patience.
These plants do not like the cold so plan to harvest early September if growing outside.
Please remember that the growing of cannabis plants and the cultivation of seeds is illegal in some countries - please check the laws of your country and don't be growing any plants if it is against your country's laws.