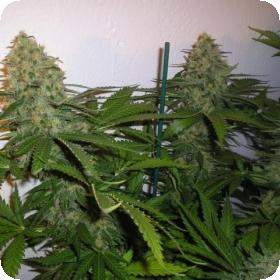 Green Poison Feminised Seeds
Green Poison is a multi award winner, fast-flowering strain that is indica dominant and easy to grow. This strain is extremely potent with a high yield of top quality buds that form around one large central cola.
This strain is prone to grey mould, due to the size and density of the buds. This means that it needs to be kept out of a damp and humid atmosphere. Green Poison is a sweet yet fruity strain that produces high levels of THC.
This means that the effect is very long lasting and euphoric, but also has a numbing/relaxing side to it. Medicinally this strain can be used to relieve the symptoms of insomnia, chronic pain, lack of appetite, stress and muscle spasms.
This strain is feminised and will only grow into female plants. Feminised seeds are great for growers who don't plan on breeding their own crops.
For these breeders the male plants are a nuisance and can actually harm the females during the flowering process. This means they have to be removed and, since they take up around half of a regular crop, this is a huge waste of time and money.
Feminised seeds also tend to be higher in quality and uniformity than regular seeds. So much so that some breeders also prefer to use them. However, feminised breeding is extremely difficult and should not be attempted by novice breeders.
Green Poison has a flowering time of 7 weeks and can be grown indoors or outdoors.
Remember that the cultivation of cannabis seeds is illegal in some countries, please check the laws of your country before attempting to cultivate cannabis seeds.