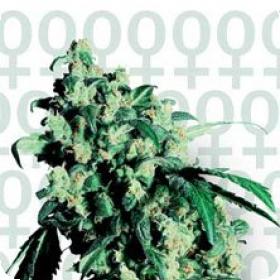 Super Skunk Feminised Seeds
When this strain was created Sensi Seeds were making a very serious effort to reach the next level of cannabis breeding. They crossed, the always immensely popular, Skunk #1 with an ancient Afghani Hash strain which is completely pure-bred and has extremely high resin production.
Super Skunk was released in 1990 and was immediately accepted as a triumph, in fact, right off the bat, it won the mostly-Indica Cannabis Cup. The strain is most renowned for being hugely reliable over all and always performing to high expectations.
The reputation of this strain is one of vigour, of potency, and phenomenal fragrance, and certainly one that the plant lives up to. It has in fact been called "one of the top feminised strains for commercial or connoisseur growers" by Sensi Seeds.
The strain may need a little encouragement here and there but when it is given the help it needs it grows spectacularly. Indoors, outdoors in a warm climate where it can receive plenty of sun, or even in a greenhouse it creates large, crystal-covered colas.
This strain truly lives up to the Skunk name and like many of its kin it is thought to require more experience to use than it does to cultivate.
These seeds are feminised which simply means that they will only grow into female plants. When this breeding method was made popular by Dutch Passion it took off like a bullet for one of the main issues facing growers everywhere was male plants.
Unless they are being used for breeding male plants are utterly useless, and even when considering breeding they are not entirely necessary.
It is in fact possible to convince the female plant to produce the same pollen, this is however and extremely difficult practice which should only be utilised by the most experienced breeders.
The results have been reported to be higher in quality and uniformity. For those who do not wish to breed their own crops males simply take up space which could otherwise be used for productive females.
Growers using regular seeds would also have to buy twice as many to receive the desired number of females.
This strain should be grown, if being grown outdoors, in a sunny or Mediterranean environment as it needs plenty of direct sunlight. It can also be grown indoors under lights, or in a greenhouse making it a very versatile strain for all growers.
Super Skunk is 80% Indica and has a short flowering period of 45 - 50 days.
Please remember that the growing of cannabis plants and the cultivation of seeds is illegal in some countries - please check the laws of your country and don't be growing any plants if it is against your country's laws