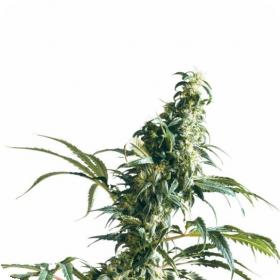 Mexican Sativa FEMINISED Seeds
Mexican Sativa comes, unsurprisingly, from Mexico. The cannabis tradition in Mexico is long standing and was the birth place of the term 'marijuana'.
This particular strain comes from the amazing cultivar that comes from Oaxaca. This strain was then adapted and crossed with Durban, a hardy African Sativa, as well as a Pakistani hash plant.
The result is a deliciously subtle and delicate strain with hints of sandalwood and aniseed. This strain is very easy to grow and ideal for all types of growers.
The effect is an uplifting sativa classic, soft and enjoyable with a clear head and a hint of relaxation.
This strain is feminised, which means it will only grow into female plants. It is also photoperiod and will require a light cycle in order to flower.
Feminised seeds are great for growers who don't plan on breeding their own crops. These growers don't need the male plants that take up half of a regular crop.
The males can actually harm the females during the flowering period and have to be removed. This is a massive waste of time and money as well as grow space.
Feminised seeds also tend to be higher in quality and uniformity than regular seeds. For this reason some breeders also prefer to use them, even though feminised breeding is very difficult.
This strain has a flowering time of 50 – 70 days and can be grown indoors or outdoors.
Genetics:
Oaxacan x (Oaxacan x Durban x Pakistani Hash Plant)