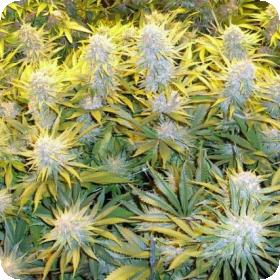 CBD Critical Mass Feminised Seeds
This strain is often called the "perfect hybrid", and for good reason. This strain is extremely easy to grow  and produces fantastic yields.
CBD Critical promises to produce fantastic buds, even for those who don't have a wealth of growing experience. This strain is indica dominant and is ideal for medicinal users.
The effect is relaxing and heavy which makes it great for lying on the couch and for combating muscle pain, insomnia and migraines. The scent is woody, not unlike tobacco, but with a hint of hash.
CBD Critical Mass is a feminised strain and will only grow into female plants. Feminised seeds are great for growers who don't plan on breeding their own crops.
For these growers the male plants are not only a nuisance but can actually be a danger to the female plants during the flowering period. This means they have to be removed, which is a huge pain and a massive waste of time and money.
Feminised seeds also tend to produce higher quality plants than regular seeds. Some breeders also prefer to use feminised seeds, even though feminised breeding is very difficult.
These plants are also photo-period and will require a light cycle in order to flower.
This strain has a flowering time of 8 – 9 weeks and can be grown indoors, outdoors or in a greenhouse.
Genetics:
Critical Mass x High CBD Strain