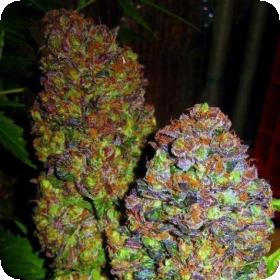 Blueberry Feminised Seeds
Blueberry is a classic indica strain that first came into being in the 1970s. This strain is well known for its fantastic scent and amazingly fruity taste. It is also pretty famous for its extremely impressive yields of super resinous buds.
Bluberry is a great medicinal strain and is often used to treat pain, stress and anxiety. Blueberry is a multi award winner, and for good reason.
Over all this strain has been around for so long for good reason, and is perfect for new and old growers alike.
Blueberry is a feminised strain and will only grow into female plants. Feminised seeds are ideal for growers who don't plan on breeding their own crops.
For these growers the male plants are not only a nuisance, they can actually cause damage during the flowering process. This means they have to be removed before they can harm the females.
Since around half of a regular crop is male this is a huge waste of time and money. Feminised seeds also tend to produce higher quality plants than regular seeds.
For this reason some breeders also prefer to use them, even though feminised breeding is very difficult. These plants will also be photo-period and will require a light cycle in order to flower.
This strain has a flowering time of 8 weeks and can be grown indoors, outdoors or in a greenhouse