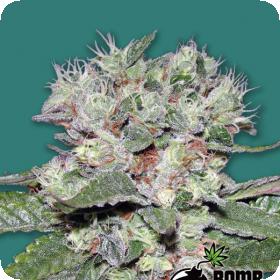 CBD Bomb is the result of 3 years of research, breeding and cross breeding, but all of that energy was more than worth it.
CBD Bomb is one of the most exciting medical strains to hit the market in who knows how long. It has a CBD level of 7% with a 1:1 ratio of CBD to THC. The effect is powerfully physical and relaxing without that unpleasant soporific side effect that can be an issue for day time medicinal users.
It is often used to manage chronic pain, joint pain, insomnia, anxiety and inflammation. That flavour is very citrusy with a hint of Skunk that gets more and more intense as the plant matures. This plant will need plenty of ventilation if it is grown indoors.
This amazing strain should have pride of place in every medicinal garden.
This is a feminised strain which means that it will only grow female plants. Feminised seeds are extremely popular amongst growers, who prefer not to have to deal with the male plants. The males can cause all sorts of havoc during the growing period and have to be removed.
This is a huge waste of time and effort, not to mention money. Feminised seeds also tend to show a higher level of quality and a more impressive uniformity.
CBD Bomb has a flowering time of 8 - 9 weeks indoors and outdoors should be harvested in October.
Remember that the cultivation of cannabis seeds is illegal in some countries, please check the laws of your country before attempting to cultivate cannabis seeds.