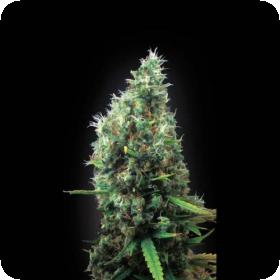 The Tijuana Feminised Seed is a stable and exciting three-way cross between pure Sativa, Mother Queen, and Original Haze.
It is a very creative strain which has a long lasting effect and is extremely flavoursome; it also has a much more pleasant cerebral effect than many other strains.
Yet another hole in one by the Blimburn brand. This strain is almost pure Sativa hence its intense effects and top quality. This seed is fun, stable, and has an excellent yield and flowering time. The seeds are also feminised.
This means that they will produce pure females and zero male plants. Male plants usually have trouble making themselves useful, in fact the only role that they really play is to fertilise the female plants.
Now it isn't even completely necessary to use male plants in order to create a seed harvest. Gene technology has shown that if properly treated, usually by stressfully changing the plants environment, females can produce some male flowers.
This can be a little trickier than simply using male plants however the females usually produce seeds which have a higher level of potency and uniformity.
You also don't need to waste all of that time, space, and money on the males simply for reproductive purposes.
Feminised seeds have been shown by the current market to be far more popular than the regular seed; this is because they are easy, efficient, and cost effective.
This plant flowers in just 11 weeks, a very short life span for an almost completely pure Sativa strain, and grows to a height of 2-3m. Its indoor yield is 400g/plant, it can grow indoors, outdoors, or in a greenhouse and so it is very flexible.
It has a very high THC content and its harvesting season is late October.
Please remember that the growing of cannabis plants and the cultivation of seeds is illegal in some countries - please check the laws of your country and don't be growing any plants if it is against your country's laws.
Genetics:
Kali Mist x Original Haze