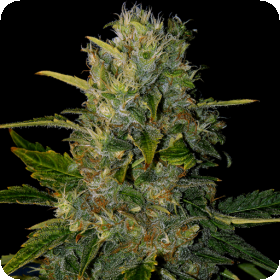 Santa Muerte Feminised Seeds
Santa Muerte roughly translated means The Saint of Death, what does that tell you? This strain is being named as one of the finest off springs of Mexican Sativa ever to hit the UK.
It is the love child of the Mexican Sativa and Original Haze and has an extremely cerebral effect. This strain tends to have a very short vegetative period, which is handy for swift growing, and is built specially to allow a large bud formation.
It has a pretty damn high THC content and a really rather impressive yield. For a pure Sativa strain these plants flower astonishingly quickly and are also feminised.
This just means that they will only produce female seeds. Most brands are feminising their seeds these days since there is little call for male plants.
Especially since it was figured out that you could bully the female plants into producing male flowers with the ingredients needed to fertilise a female.
Therefore, they can create their own seeds which was really the only thing that anyone was using male plants for. Unless the plants are growing alone in the wild there is no point in the male plants.
They also produce an excellently uniform crop with very few weak links and have a much higher level of potency than regular plants. This type of seed was created by Dutch Passion quite a while back to make everyone's lives easier and since then they have only been improving.
It is quite rare these days that hermaphrodite plants will grow from feminised seeds.
These plants take just 10-11 weeks to flower and can be harvested in mid-October. They usually grow to a height of 2-3m and give a hefty yield of 500-600 g/plant. They can grow indoors, outdoors, or in a greenhouse, and have a high THC content.
Please remember that the growing of cannabis plants and the cultivation of seeds is illegal in some countries - please check the laws of your country and don't be growing any plants if it is against your country's laws.