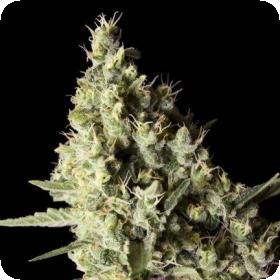 The Narkosis Feminised seed is a fun new hybrid. It's a mixture of the rather intense and powerful Critical strain, yet it has a sweetness added to the mixture by its other parent plant, the Somango strain.
Quite a curious cross-breed but it certainly paid off because these traits fit together perfectly, the mixture of taste and power. This strain has inherited a lot of excellent traits from its predecessors, traits such as its fruity taste, its early flowering, and its long-lasting and elating effects.
This strain, like many of Blimburn's others, is feminised.
Feminising a seed means that it can only grow into a female plant, not a male. This seed type was created to make life a bit easier for those who have no real need for the male plants.
This is therefore a far more efficient way to handle a crop as it will save money, and quite a bit of space. Generally people just got bored of paying so much for half the amount of females that they actually wanted which I feel is perfectly understandable.
Most brands can now boast an extremely high pure female yield from their seeds, as with any other great invention there were originally a few kinks to be worked out.
Usually feminised seeds would produce a few unwanted hermaphrodite plants but now that the feminising technology has been advancing constantly there is a low risk of that.
This plant has a medium THC content as well as a yield of 550gr/m2. It is capable of growing within a greenhouse, indoors, or outdoors.
Its outdoor flowering time is the tail end of September but its indoor flowering time is 50-60 days so you can probably see why it is preferred as an indoor plant.
Please remember that the growing of cannabis plants and the cultivation of seeds is illegal in some countries - please check the laws of your country and don't be growing any plants if it is against your country's laws.