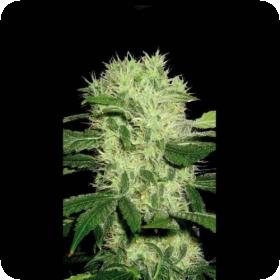 Dama Blanca Feminised Seeds
The Dama Blanca Feminised seed is the child of White Widow, by which I mean it is a product of the strains inbreeding, an extremely popular Indian/Brazilian strain.
It has a very fruity flavour and aroma which is extremely refreshing and has been likened to the smell of fresh pineapple. It grows to a medium size and has a very good yield.
This seed has quite a strong effect but will not cause a user to be completely and utterly useless for the rest of the day.
This seed is feminised which simply means it will not grow into a male plant. This type of seed was first brought into the world by the brand Dutch Passion and has quickly whisked its way over the market becoming more and more popular.
Many people prefer the fact that no males grow as few people use them. The male is only really useful for seed production and even then feminised seeds can also perform that action.
If a feminised seed is pressured correctly it can produce a small number of male flowers, these male flowers can then be used to pollinate the female plants and create a harvest of seeds.
These seeds will often have a higher level of potency and are much better at retaining a constant level of quality.
These seeds will grow to maturity in roughly eight weeks, grow to a height of 2-3 meters, will grow in a greenhouse, outdoors, or indoors, its indoor yield is 450g/plant, it has a very high THC content, and its harvest time is tmid October.
A rather versatile and fast growing strain which is certainly worth keeping an eye out for.
Please remember that the growing of cannabis plants and the cultivation of seeds is illegal in some countries - please check the laws of your country and don't be growing any plants if it is against your country's laws.
Genetics:
White Widow x White Widow