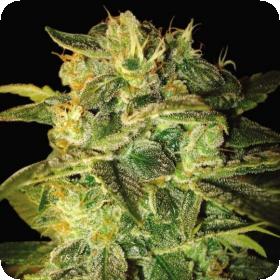 Sugar Mango Ryder Autoflowering Feminised Seeds
This wonderful strain is a cross of Brazil Amazonia, a strain which originally comes from the Amazonian region of Brazil, with a Ruderalis strain. This strain is a wonderful example of a successful Ruderalis plant which has taken generations to perfect.
The strain contains both Indica characteristics, a desirable trait in a strain, and autoflowering properties.
The plant has a typically Indica scent and taste which is light and fruity. This cross provides growers with a higher yielding version of the strain which is of a more impressive quality. This strain has a high medicinal value as it has a high THC content.
The effect is relaxing and soft which makes it ideal as a painkiller or for those who are suffering from stress or anxiety related illnesses.
Sugar Mango Ryder is not only autoflowering but it is also feminised making it far easier and more rewarding to grow than most plants.
Feminised seeds will only grow into female plants, this is ideal for growers who have no need for the male plants. The males are often simply an annoyance as well as a waste of time and money.
At the start of the flowering process they must be removed from the crop so that they do not harm the female plants. This is waste of effort which could be better used on the productive females.
It also means that around half of the seeds are wasted, and therefore half of the money the grower has spent on them. Feminised plants also tend to be of a higher quality and uniformity than regular plants.
In fact 80% of strains which have been feminised have shown marked improvement in both areas.
Autoflowering plants grow a little differently to regular plants. They flower of their own accord rather than as a response to a specific light cycle. This not only makes them easier to grow but also gives them a shorter flowering period.
This is because they skip the stage known as the vegetative period. Autoflowering plants also tend to produce larger yields and can be kept to a shorter height without damaging those yields. This makes them ideal for indoor growing.
This strain can be grown indoors or outdoors making it ideal for all sorts of growers and breeders. It has a flowering time of 50 - 60 days and will grow to a height of 40 - 90 cm. The yield of the plant is roughly 350 - 450 g/m2 indoors and 25 - 45 g/plant outdoors.