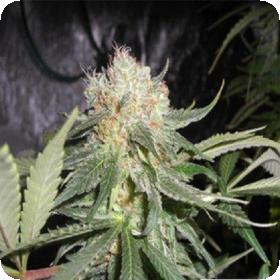 Kush Van Stitch Autoflowering Feminised Seeds
Kush Van Stitch is known for being a strain that produces exceptionally well. Its buds are dense and become coated with sticky resin as the plant matures. When lit, it offers the user a thick, flavourful, rich smoke that seasoned indica enthusiasts will agree is second to none.
This is not a variety to unleash on a first-timer, but if one knows what he or she can expect from a particularly powerful indica, this strain will not disappoint.
The aroma of Kush Van Stitch speaks volumes about its quality. It is an amped-up version of the best tangy sweet indicas out there and it smells just like it tastes. As it grows, it smells better. When it's lit, the smell alone can be intoxicating.
The sweet citrusy smell becomes mingled with diesel oil and incense with hashy undertones. Its uniquely powerful flavour is sure to leave anyone who smokes it craving more.
Kush Van Stitch responds to popular growing methods used with any other indica strain. Indoors, it works well using soil, potting and hydroponics along with specialized methods like SOG and ScrOG.
Expect the plants to grow to a medium height and stretch a little bit. Lateral branches are few but hardy. Each plant produces an impressive abundance of buds, especially for an Autoflowering strain, and the cured product can be stored practically forever without loss of quality.
Outdoor growers will notice similar yields, especially in areas with warm climates and long growing seasons.
Growing Kush Van Stitch in pH-balanced soil and delivering a steady supply of nutrients will increase both the yield and quality of the end product.
Growers should be mindful of the possibility of mould and fungus when growing in areas that are particularly humid. Flowering time for this strain is only about 70 days.
Please remember that the growing of cannabis plants and the cultivation of seeds is illegal in some countries - please check the laws of your country and don't be growing any plants if it is against your country's laws.