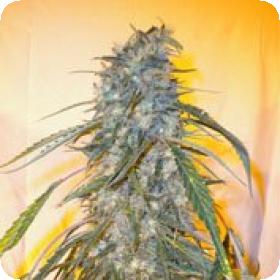 Annapurna Autoflowering Feminised Seeds
Flash Seeds Annapurna Autoflowering is part of a growing selection of automatics that has been flooding the market over the past few years. As is the nature of an Autoflowering strain, it is not dependent on light to flower, but rather its genetics and the time in its growth cycle.
These plants are not intended for growers with limited space. The plants can grow 7 feet tall outdoors and only slightly shorter indoors. They also like to stretch.
At approximately 100 days from seed to harvest, Annapurna Automatic may take a bit longer than the average automatic, but that is still relatively fast. With proper care and nutrients, one plant should yield at least four harvests in a year.
The plants also clone well, stretching the investment in these seeds considerably. Growing it is easy and works well for beginners who are looking for a plant they can use to develop their skills.
The results one gets from Annapurna Autoflowering can easily be gauged by the expertise of the grower. As one gets better at caring for them, the quantity and quality they deliver increases. It is not unusual to get a yield of as much as 200 g of cured product from one plant.
Annapurna Autoflowering has a rich, smooth flavour that is cool and minty. Those who prefer menthol cigarettes will very much appreciate the taste of the smoke.
The effect is definitely hybrid, delivering all the best qualities of both a strong indica and a high-quality buzz-producing sativa.
The feeling is very relaxing but also hits the creative centres of the brain for an invigorating, motivating euphoria and leaves the user feeling peaceful but functional.
THC content is high with a low CBD concentration. It makes for the perfect social variety and is also effective for medicinal implementations.
Please remember that the growing of cannabis plants and the cultivation of seeds is illegal in some countries - please check the laws of your country and don't be growing any plants if it is against your country's laws.