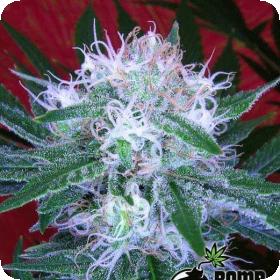 Bomb Auto Feminised Seeds
Bomb Seeds has successfully merged the power of Bomb Seeds with an autoflowering ruderalis to create Auto Bomb, which has taken several years to develop. 
Auto strains are the newest craze in cannabis seed technology, with Auto Bomb proving to be one of the most potent autos to date. 
Their breeder has worked tirelessly to develop a fast-finishing, high-yielding, and powerful auto variation. 
Auto Bomb possesses all of the positive characteristics of a typical auto, creating an abundance of resin and an exploding covering of milky white trichromes. 
The main cola that grows is robust and heavy, providing excellent access for removing shadow leaves and branches come harvest time. 
Bomb #1 was crossed with a ruderalis and then back crossed with a selected psychoactive haze in a sophisticated process. 
As a result, the auto has much improved flavour, strength, and potency, which other autos lack. 
From May through October, the plant can be harvested and finished in as little as 65 days from seed. 
This is a true connoisseur's autoflower, with high THC and higher yields while being quite easy to grow. 
Auto Bomb is one of the highest-yielding autos ever.