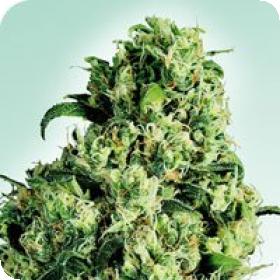 Skunk is one of the most famous and more revered cannabis strains available on the market and has been for the last 40 years.
Originally the strain was created as a hybrid between Central Southern American, Afghani and Thai cultivars.
Over generations of selection, back-crossing and intense experimenting the most exceptional samples of Skunk were selected and utilised to create the first pure Indica - Sativa hybrid.
Skunk is so renowned for its potency that many of the strongest strains of cannabis have simply been referred to as Skunk.
Skunk has, for a long time, been the epitome of uniformity, reliability, and solidity, many breeders judge their plants by it and it has been the base for many popular, modern, strains.
It trumps most other strains in its vigorous growth and its impressive yield, its impressive flowering and growth show its Indica influences, however they grow to a greater height than most Indica strains. The Sativa heritage of the strain can be seen in Skunk #1's long pistils and awesome calyxes and the fact that the buds expand impressively towards harvesting.
The effect that the strain has is a delightful combination between the light cerebral high of the Sativa and the potent stone of the Indica.
Skunk #1 is sold by Sensi Seeds both in feminised and regular seeds ensuring that all growers and breeders are catered to.
These are the regular seeds which are still very popular amongst a lot of old-school growers and breeders who prefer to stick with simplicity and purity rather than the user-friendly, genetically altered, option.
For breeders regular seeds are certainly the best option as they grow into a roughly even split of male and female plants. Having a combination of males and females means that, at the discretion of the breeder, two parent plants can be selected for the next crop.
The selection of the parent plants is an important one and the two absolute pinnacles of genetic material must be selected from the crop. This way only their genes will be passed on to the next crop and through the generations the quality of the plants will only improve.
Skunk #1 has an impressively short flowering period of just 45 - 50 days, is 35% Sativa and 65% Indica. It thrives in a temperate or Continental climate has a large yield and average height-gain.
Please remember that the growing of cannabis plants and the cultivation of seeds is illegal in some countries - please check the laws of your country and don't be growing any plants if it is against your country's laws
Genetics:
Columbian x Mexican x Afghani