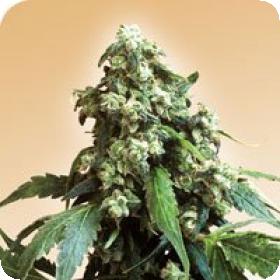 The Jack Flash strain is the product of Sensi Seeds drive to continuously improve even their finest strains, this strain was born from the already extremely popular Jack Herer line.
Sensi always has a particular level of affection for Sativa strains and this strain proves that these beautiful, tropical strains are completely suitable for the average indoor grower.
They achieved this impressive strain by refining the already impressive Jack Herer gene-pool and primarily utilising back-crossing. Sensi infused a blend of Super Skunk and Haze with regular and intense testing at each stage of development.
Jack Flash was achieved by the inbreeding of its Afghani-Skunk ancestors without having to sacrifice the intense Haze effects of the Jack Herer strain.
This strain is an excellent combination of Indica and Sativa traits such as the compact vigour of the Indica and the flavour, yield and bodily effects of the Sativa. Truly a triumph by the consistently impressive breeders at Sensi Seeds.
This particular strain has been left as a regular strain meaning that the seeds will grow into a roughly even split of males and females.
While it is true that feminised and auto-flowering strains have been dominating the recent market, there are still growers and breeders all over the world who will never lose their love for the simplicity of the regular seeds.
For breeders especially regular seeds offer a simple growing technique that is unrivalled by their genetically altered counterparts. Since there is a good selection of male and female plants in each crop a breeder can select on the best to carry on the genetic line.
This means that they have a level of control over the quality and uniformity of their future crops that is still highly desirable to many breeders.
Regular seeds also have a certain amount of resilience that is not usually found in genetically altered seeds and they are often used in attempts to reintroduce cannabis into the wild.
Jack Flash thrives in a sunny or Mediterranean environment, has a heavy yield, flowers in just 60 - 70 days, and grows to an impressive height. This particular strain is 45% Sativa to 55% Indica.
Please remember that the growing of cannabis plants and the cultivation of seeds is illegal in some countries - please check the laws of your country and don't be growing any plants if it is against your country's laws
Genetics:
(Jack Herer x Super Skunk) x Haze