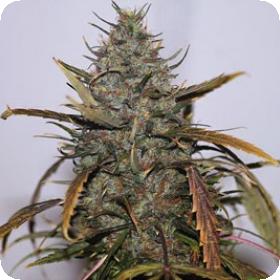 Hindu Kush from Seedsman is a pure Indica strain which originated in the Hindu Kush which is a mountain range that has produced phenomenal cannabis strains for a long time.
Since these seeds were introduced to Western cannabis culture they have been selectively bred over generations by a number of different breeding companies. They are always bred with their own genetics which means it is a perfect indoor crop.
It produces consistant and uniform seedlings which means that there are very few surprises when it comes to quality, taste, smell or effect. It has a medium - high potency which is coupled nicely with a happy, full body effect which is extremely relaxing and enjoyable.
It creates a calm and thoughtful mental effect rather than a mind-blowing and heavy one that is so often associated with Indica strains. This strain is ideal for use as a nighttime pain medication as well as for those suffering from stress, depression and anxiety.
Hindu Kush come to its regular form which means it has photoperiod flowering and grows into a combination of male and female plants. This makes it ideal for breeders as the easiest method of breeding uses a male and a female plant.
Since the crop will be roughly even, in the amount of plants which become male or female, which means that the breeder has plenty of choices.
Choosing the parent plants is very important, if the perfect plants are chosen this can increase the quality of the crop and wean out any genetic weaknesses.
Regular seeds have gone down in popularity but certain companies, such as Seedsman, ensure that all types of growers and breeders have the best strains available to them.
They are also popular amongst activists who plan on reintroducing cannabis into the wild. Regular seeds, if placed in the right environment, are capable of growing and thriving completely on their own.
This strain can be grown indoors or outdoors making it ideal for all types of grower and breeder. It has a flowering time of 6 - 7 weeks and should be harvested in September.