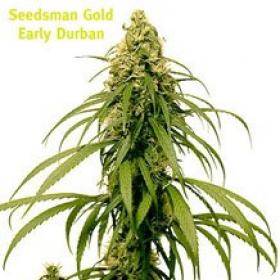 Early Durban Regular Seeds
Early Durban is among the world's most well-known outdoor strains. It is an impressive cross between Durban Poison and Skunk #1. Its growth pattern is typically sativa and the plants grow exceptionally large, especially outdoors.
It finishes outdoors in early October, and grows equally well indoors. The final product has a smooth cerebral effect that is every bit sativa with the subtle flavour of anise seed.
Early Durban is great for both commercial and hobbyist growers. The average yield is in the vicinity of 450 g per square metre of juicy, sticky and can go even higher. Treat this plant well, provide it with regular pruning and care and it will reward tremendously.
Sow these seed Mid May for best results in the Northern Hemisphere. This will give the plants the benefit of the greatest number of hours of sunlight during its photoperiod.
Seedsman Seeds Early Durban is easy to grow and flowers early thanks to the inclusion of Skunk #1 genetics. It is the result of an exhaustive effort to produce a stable cannabis strain that represents the best traits of American, African and European cannabis genotypes.
This strain is very easy to grow and adapts well to a number of outdoor climates as well as any preferred indoor growing method. The yield is high and the end product provides a pleasing, typically sativa effect.
The plants grow tall and have an elegant sativa stature. They have a strong, pliable central stem with numerous lateral branches and average spacing between nodes. They are ample producers and the end product is of exceptional quality.
Experienced growers should start training Early Durban by topping and tying. It produces very large and heavy colas that grow much like vines. They can quickly take over a sizeable space and deprive other plants to much-needed light.
Please remember that the growing of cannabis plants and the cultivation of seeds is illegal in some countries - please check the laws of your country and don't be growing any plants if it is against your country's laws.