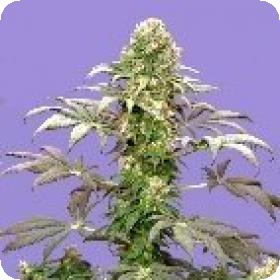 Matanuska Tundra Regular Seeds
Matanuska Tundra is a legendary strain from Alaska that will be found in any fishing and hiking guide of the Matanuska Valley. The buds are enormous, dense and extremely resinous with a rich scent of chocolate.
The buds are so covered in THC crystals that they look as though they have been out in a snow storm. The effect is relaxing, soft and smooth which makes it ideal for enjoying nature. Medicinally this strain is ideal for those suffering from pain and anxiety. 
This version of Matanuska Tundra is regular, meaning it will grow into a mix of male and female plants. This makes them ideal for breeders, who need the male plants for their pollen.
The split of male and female plants is roughly even, with maybe a few more females than males. This means breeders have plenty of choice when the time comes to pick the parents of the next crop.
Choosing the very best parents will improve the quality of the next crop while removing genetic weaknesses. This strain is also photo-period and will require a light cycle in order to flower. 
This strain has a flowering time of 60 – 70 days and can be grown indoors or outdoors. 
Remember that the cultivation of cannabis seeds is illegal in some countries; please check the laws of your country  before attempting to cultivate cannabis seeds.