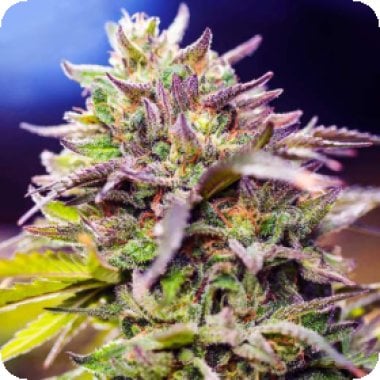 Skunk #1 is a classic strain that arrived in Europe in the 1980s. It is a tough and resilient hybrid that is easy to grow, with a fast flowering time of 56-60 days. When growing indoors, it is important to have effective carbon filters in place due to its strong smell.
Skunk #1 is a three-way hybrid with genetics from Afghanistan, Mexico, and Colombia. It performs exceptionally well outdoors and can withstand cold climates and diseases. During the growing process, this hybrid displays more of its sativa influence with medium-sized branches. It is recommended to train the plant during the vegetative stage as it can grow quite large.
This strain requires minimal maintenance, making it suitable for beginner and commercial growers looking for high yields. Once flowering begins, it can reach a height of 120-150cm. With THC levels between 15% - 20%, it offers a well-balanced effect that is ideal for smokers with lower tolerance. When grown in a Sea of Green setup, yields can reach 400-500 g/m².
Skunk #1 has a distinct and pungent aroma, reminiscent of a skunk spray. Its buds are large and chunky, with maroon brown hairs and a resinous profile, making it a popular choice for hash makers. It is a fast-flowering strain, ready for harvest in just 8-9 weeks.
The effects of Skunk #1 are powerful and long-lasting, providing a mentally stimulating high that eventually transitions into a relaxed physical state. It combines indica and sativa traits, offering a thought-provoking experience without causing tiredness. The flavors are sweeter than the aroma, with deep earthy notes and hints of citrus.
Medical patients may find Skunk #1 beneficial for improving concentration, energy levels, motivation, relieving nausea and stimulating appetite. It can also enhance overall mood.
This legendary strain continues to meet expectations in terms of flavor, potency, yield, and resistance. It is a testament to the genetic advancements made in the 1970s and the creation of many modern-day strains.
Genetics:
Afghan, Mexican, Colombian