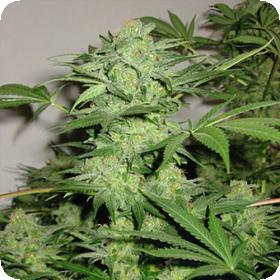 Northern Light Special REGULAR Seeds
This version of Northern Light by KC Brains is the ideal strain for indoor growing. It has all of that legendary Northern Lights power, with a THC level of 18 - 20%. It has a deliciously sweet flavour and a short flowering time.
The yield is extremely impressive and will usually reach up to 350 g/plant when grown indoors and as much as 750 g/plant outdoors.
This strain adapts extremely well to being grown outdoors as well, and will reach impressive heights when given the space to grow. However, indoors it will stay nice and small so that it doesn't take up too much space.
This is a great choice for cloning and perfect for anyone who needs something to help them sleep through chronic pain.
Northern Lights Special is a regular strain, this means that it will grow into a combination of male and female plants. It will also require a light cycle in order to flower.
Regular strains are usually popular with breeders who need both genders to easily breed their own crops. The split of male and female is about even, which means that the breeders have plenty of choice when it comes to selecting the parent plants for the next crop.
This strain will take 8 - 11 weeks to flower and, as I may have mentioned, grows very well both indoors and outdoors.
Remember that the cultivation of cannabis seeds is illegal in some countries, please check the laws of your country before attempting to cultivate cannabis seeds.