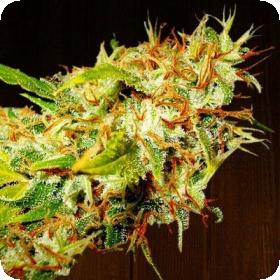 Zamaldelica Regular Seeds
ACE Seeds Zamaldelica is a powerful hybrid. It is the result of pollenating a Zamali female with a Malawi male.
Zamal originates off the coast of Madagascar in La Reunion and is a vigorous strain whose end product offers a unique psychedelic experience. Its plants are branchy and bushy and have an open structure which makes it resistant to grey mould.
Its scent is very complex with layers of mango, sweet carrot, citrus and florals. The buds yield plenty of resin and the plants grow to an impressive size in a comparatively short time.
Zamaldelica is most comfortable being grown in its native climate but it is extremely hardy and flexible. It will grow well in more moderate climates and responds well to being grown indoors.
The Sea of Green growing method and 12/12 lighting are recommended for best results. It flowers between 11 and 14 weeks and produces an impressive yield.
Advantages of ACE Seeds
In their ongoing effort to produce the best cannabis varieties that showcase all the best attributes of each strain, ACE Seeds draws from pure sources.
This greatly enhances their hybridization efforts. The plants mature quickly and are extremely productive.
ACE Seeds are the product of an enduring commitment to the cultivation of the best varieties of cannabis on earth.
Their pure strains are sourced from exotic locations far and wide and they are and will remain 100% committed to preserving native varieties as a first effort to producing truly superior hybrids.
ACE Regular seeds are a great option for experienced growers with an appreciation for the varied challenges present in growing multiple varieties of cannabis.
Growers who trust ACE Seeds have come to expect high standards and ACE Seeds certainly delivers. Their seeds yield a consistent end product that growers greatly appreciate for both the quality of the plants as well as the end product.
Please remember that the growing of cannabis plants and the cultivation of seeds is illegal in some countries - please check the laws of your country and don't be growing any plants if it is against your country's laws.