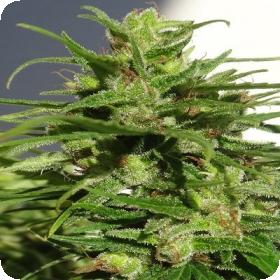 For the growers out there who like something simple, no muss, no fuss, no fancy alterations. Just a nice, pure subtropical African Sativa with it's tall stature, vigorous growth and strong branches.
This is a strain for all the purists and preservationists out there. This strain is not one to be messed with and is extremely resistant to wind, heat, mould and moisture. It does have a slightly longer flowering time than many strains but it is worth the wait.
In the end the grower is rewarded with a large yield of top quality buds. The effect is extremely cerebral and mentally stimulating which is ideal for those who are looking for a fun, social smoke. It is also great for those who are prone to paranoia or anxiety when smoking and it doesn't have any of the heavy heady or bodily effect. The scent and flavour is a classic smoky woodiness with a hint of musk and citrus.
Many old school growers and breeders still much prefer to use regular strains rather than one of their easy to grow cousins. This may not be a strain for beginners but for those who have been growing a while and just love a simple, classic plant it is perfect.
Regular seeds are often preferred by breeders since they will grow into a combination of male and female plants. This is by far the easiest way to breed a new crop.
Ethiopian Regular seeds can be grown indoors, outdoors or in a greenhouse. They have a flowering time of 13 - 14 weeks and, if grown outdoors, should be harvested mid November.
Please keep in mind that the cultivation of cannabis is illegal in several countries.