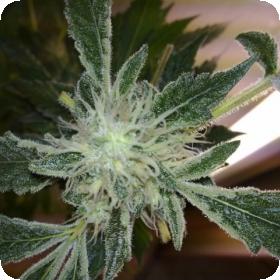 Yumbolt 47 Feminised Seeds
This strain is a combination of two unlikely strains, Californian indica Yumbolt and AK47. The flavour is sweet with a hint of incense and the growth is clearly that of a sativa strain. During its cycle this strain can smell quite strongly and will need to be ventilated when grown indoors.
The flavour is lovely and sweet like the scent, and the THC level is around 20%. The effect is soothing and relaxing, which makes it ideal for medicinal use. 
Yumbolt 47 is a feminised strain that will only grow into female plants. It will also require a light cycle in order to flower. Feminised seeds are ideal for growers who have no interest in breeding their own seeds.
For these growers the male plants are less than useless and can actually damage the females during the flowering period. This means the males have to be removed, which is a massive waste of time and money.
Feminised seeds also tend to produce higher quality plants than regular seeds. 
This strain has a flowering time of 55 – 65 days and can be grown indoors and outdoors. 
Remember that the cultivation of cannabis seeds is illegal in some countries; please check the laws of your country before attempting to cultivate cannabis seeds.