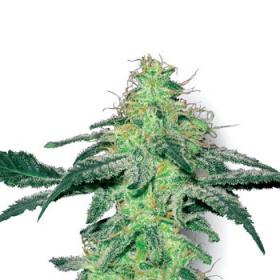 White Skunk Feminised Seeds
This is another resin heavy strain from the Sensi White Label range. An easy to grow super strain that is ideal for all growers, from novices to experts.
Of course, this strain has all those lovely old school Skunk genetics in there, making it a potent smoke. The effect is nice and uplifting with a hint of that nice body stone.
This strain is famous for being uniform and consistent as well as for producing insane amounts of resin. It is a really versatile strain but loves warm weather when it's grown outdoors.
The scent is still powerfully Skunky but with a hint of bitter orange and liqueur.
White Skunk is a feminised strain, meaning that the seeds will only grow into female plants. This type of seed was created to make life easier for growers who don't plan on breeding.
For these growers the male plants, that take up around half of a regular crop, were a total waste of time, space and money.
They would have to be removed during the flowering period to ensure they didn't damage the female plants. Feminised seeds also tend to be higher in quality and uniformity than regular seeds.
For this reason, some breeders also prefer to use them. While feminised breeding is possible, it is not easy, and should only be attempted by experienced breeders.
This strain can be grown indoors, outdoors or in a greenhouse and has a flowering time of 50 – 55 days.
Remember that the cultivation of cannabis seeds is illegal in some countries, please check the laws of your country before attempting to cultivate cannabis seeds.