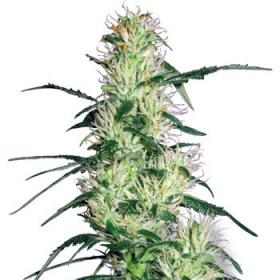 Purple Haze Feminised Seeds
This strain is a sativa dominant classic from the breeders at Sensi White Label. Unlike many of its fellow sativas this strain has a lovely dark colouring, as apposed to the usual bright green.
This will be especially apparent at night when growing temperatures drop. Purple Haze is well known for its elevating effect and amazing resin production.
While being a powerful strain, its effects are not overly intense and are quite manageable for newer smokers in small doses. The plants themselves are medium sized and have less stretch to them than some landrace sativas.
This does not go the same for the buds, which are long, dense and covered in a thick coating of resin, much like one would expect from a sativa.
Purple Haze is a feminised strain, meaning that it will only grow into female plants. Feminised seeds are ideal for growers, who usually have no plans to breed their own crops.
For these growers, the male plants can be a nuisance as well as a waste of time and money.
When cannabis plants reach their flowering period the males can harm the females, meaning that they have to be separated and, in most cases, removed.
By using feminised plants growers can get the most for their money and save a huge amount of space and effort.
Feminised seeds also tend to be higher in quality and uniformity, which is why some breeders also prefer to use them. However feminised breeding can be difficult, and should only be attempted by professional breeders.
This strain can be grown indoors, outdoors or in a greenhouse and has a flowering time of 50 – 65 days.