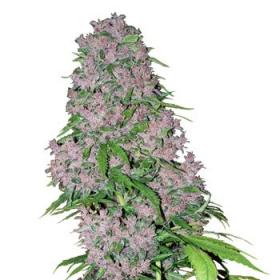 Purple Bud Feminised Seeds
This famous Afghani Indica has been combined with an amazing sativa strain to create an easy to grow plant that can grow well in colder climates.
This strain gets its name from the beautiful purple colouration of its buds that becomes present when it is grown in lower temperatures, especially at night.
This strain has a rich history starting in the Hindu Kush mountains and ending in Holland, the hub of cannabis growing and breeding in Europe. This strain is extremely popular due to its heavy potency and beautiful colouration.
It is surprisingly easy to grow, even for beginners, and will produce high yields of top quality buds.
Purple Bud is a feminised strain and will only grow into female plants. Feminised seeds are great for those who don't plan on breeding their own crops.
For these growers the male plants are little more than a nuisance, a waste of money and a pain in the butt.
Since they can harm the females during the flowering period they have to be removed from the crop, which wastes around half of the seeds purchased by the growers.
Feminised plants also tend to be higher in quality and uniformity than regular plants. This makes them popular amongst breeders as well as growers, despite the difficulty involved in feminised breeding.
This strain has a flowering time of 60 – 75 days and can be grown indoors, outdoors or in a greenhouse.