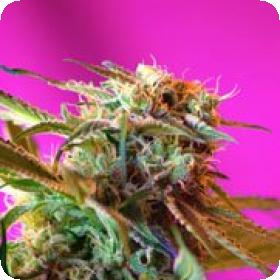 Wild Rose Feminised Seeds
Sweet Seeds Wild Rose is a hybrid of Hog and Rosetta Stone, a strain not as well known in Europe, but very well-received and grown throughout Canada and North America. Rosetta Stone is an Indian sativa dominant strain.
First developed by The Brothers Grimm, it is said to produce a refreshing citrus aroma. This combined with Hog also brings an overall sweeter flavour to the plant, with a high CBD content adding to its medical usefulness.
This seed is made up of 65% Sativa genetics, meaning that up until about the 4-week mark, a grower may not see much growth, it is in the last 3 to 4 weeks however that they will approximately triple in size.
It is these Sativa genes that give this strain such large yields and its characteristically large, dense buds and outstanding resin production. Wild Rose's impressive fungal resistance also makes it ideal for outdoor cultivation, as well as indoors.
Since Sweet Seeds has made this strain a feminised seed, this means that a grower would have an even easier time with this already simple grow.
While a regular seed will normally produce a fairly even split of male to female plants, a feminised seed is almost guaranteed to produce an all female crop.
Therefore, for a grower cultivating for the buds alone, as opposed to breeding, this would clearly the better option as the males are somewhat obsolete for this purpose.
With males being grown as well, a grower would require twice as much space with which to accommodate these plants, as well as twice the time and money for the seeds themselves.
This problem is eliminated with a feminised seed, as is the task of disposing of those males that are not needed. It is also the case that for a more experienced grower, the male plants are not always essential to the breeding process.
Fertilisation can be achieved through attentive manipulation of the female plants in order to make them produce pollen. It is not recommended for less experienced growers, but when executed correctly, the overall quality and uniformity of the crop is often higher.
The expected flowering period of this strain is about 9 weeks, with an expected yield of around 400-450 grams per square meter indoors. Outdoors, it is grown around mid October and a yield of around 350-550 grams per plant can be expected.
Please remember that the growing of cannabis plants and the cultivation of seeds is illegal in some countries - please check the laws of your country and don't be growing any plants if it is against your country's laws.