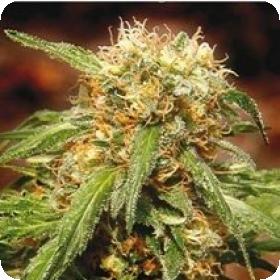 Sweet Tai Feminised Seeds
Sweet Tai is an excellent new hybrid made up by crossing Super Tai with Early Skunk, two great strains in their own rights.
The addition of Early Skunk is what is said to give the finished plant its density and outstanding resin production, along with cutting down the overall flowering time of the strain.
The more compacted structure that this gives the plant means that it is ideal for indoor cultivation as well as outdoor conditions. This seed is said to have a very pleasant and potent Tai flavour and aroma, typical of a lot of the more exotic Asian strains.
In making this strain a feminised seed, Sweet Seeds has ensured that it would be, not only a much easier plant to grow, but a more time a cost effective choice overall. With a regular seed pack it is usually the case that an approximate 50/50 male to female split will be produced.
If the desire of the grower is purely to breed, then this is not so much of a problem. However, since the female plants are the only ones to produce buds, then a grower with need for the buds only does not require the males.
It would then mean that twice as much space would be required in order to gain the required number of females. The money and time spent on the seeds would also be doubled. The feminisation of the seeds, therefore, removes all the extra hassle.
Additionally, for a more experienced grower, it is not actually a necessity for male plants to be used in the breeding process. Production of pollen in the female plants can actually be achieved by executing careful control over the female plants.
A less experienced grower probably would not want to attempt this. When done well, however, the resulting crop will most likely have a higher level of overall quality and uniformity.
The expected flowering time of this strain is approximately 9 weeks, with an expected indoor yield of 350-450 grams per square meter. Outdoors this plant is grown between late September and early October, with an expected yield of 300-500 grams per plant.
Please remember that the growing of cannabis plants and the cultivation of seeds is illegal in some countries - please check the laws of your country and don't be growing any plants if it is against your country's laws.