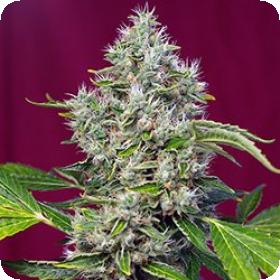 San Fernando Lemon Kush Feminised Seeds
San Fernando Lemon Kush is a marvelous cross of two of Sweet Seeds' best clones, San Fernando OG Kush and Lemon Thai. SFV OG Kush is one of the oldest OG Kush strains in existence.
Characterised by its fantastic Kush scent. Lemon Thai adds another level to this classic and the resulting strain has an aroma of spices and wood with hints of lemon and blue cypress.
The plants look like indica/sativa hybrids, slightly closer to the sativa side. This strain is well known for its high resin production, making it fantastic for extraction methods.
This strain is feminised and will only grow into female plants. Feminised seeds were designed to make life easier for growers who don't plan on breeding their own crops.
Feminised seeds can save a lot of time, money and energy that would be much better used on female plants. Males would usually take up half of a regular crop, and simply have to be thrown away before they can harm the female plants.
Feminised seeds also tend to be higher in quality and uniformity than regular seeds. For this reason some breeders also prefer to use them. However, feminised seeds are far harder to use for breeding and it should only be attempted by experienced breeders.
This strain can be grown indoors or outdoors and has a flowering time of 9 weeks.
Remember that the cultivation of cannabis seeds is illegal in some countries, please check the laws of your country before attempting to cultivate cannabis seeds.
Genetics:
San Fernando Valley OG Kush x Lemon Thai