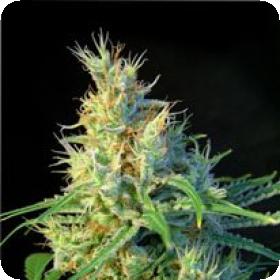 Psicodelicia Feminised Seeds
The Psicodelicia strain by Sweet Seeds is a brand-new strain which contains the genetic material of the finest Nepali and American strains.
The strain was born from many complex breeding experiments and took a long time to cultivate, however it could be argued that the resulting strain is certainly worth the hassle.
The aroma of this plant is truly a work of art and really sets it apart from the other strains, a perfect combination between spiced Asian coffee and a fresh, bright citrus.
When this plant fully matures it becomes coated in large, sticky, aromatic buds and is coated in crystal-covered hairs. The THC content of the plant is high with a CBD level of 0.6%, this causes the plants energetic, creative effects.
Feminising seeds means that they will only grow into female plants which is extremely useful for modern growers. Many growers have no use for male plants and so feminised seeds are by far the best option.
Male plants are not only an inconvenience to most growers, but they can also damage the females around them. A grower who has no need for male plants but uses regular seeds is not only wasting their time and energy but also their money.
Regular seeds grow into a roughly even split of male and female plants so growers using them will need to grow twice as many for exactly the same yield.
Using feminised seeds means that a grower knows what they are getting and can choose exactly how many female plants they want to grow without risking a good section of them being male.
It is possible for breeders to create their own feminised seeds from female crops, the female plant can be convinced to create female pollen.
This pollen can be used to fertilise another female and the resulting seeds will not only be feminised but higher in quality and uniformity than regular seeds.
This is a very difficult method of breeding, however, and should only be taken on by expert breeders.
The flowering period of this strain is just 8 - 9 weeks and can be grown indoors or outdoors with an average yield of around 550 gr. Indoors this plant can really thrive and reach impressive heights so some trimming may be necessary, its outdoor harvest time is the end of September/beginning of October.
Please remember that the growing of cannabis plants and the cultivation of seeds is illegal in some countries - please check the laws of your country and don't be growing any plants if it is against your country's laws