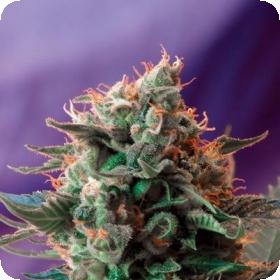 Jack 47 FAST Version Feminised Seeds
Jack 47 Fast is a non-autoflowering version of the classic Jack 47 with added genetics for faster flowering time. This is one of the most powerful strains in Sweet Seeds' collection - the result of crossing a select Jack 47 Auto specimen with a Jack 47 regular elite clone.
Crossing the automatic with the regular allows for the shorter flowering time. These plants typically finish about a week faster than the original, maturing in just about 8 weeks.
The plants are vigorous and produce thick, dense buds with an abundance of thick, potent resin. The flavour and aroma complement each-other well. Both are very sweet and fresh with undertones of flowers, frankincense and sour notes of citrus thrown in just to make things interesting.
Jack 47 Fast is a good strain for both indoor and outdoor growing environments. The plants are mostly sativa, so they will require vertical space to stretch along with enough floor space to branch out adequately.
They are partial to soil but thrive in hydro environments as well. Yields both indoors and outdoors are about the same with a high end of approximately 500-600 g per square metre. These plants are not partial to cold and should be harvested by mid-September.
Users experience an upbeat, typically sativa high but it is very potent and long-lasting. THC content can reach very high levels, CBD about 1.5.
Experienced growers will appreciate Jack 47 for its easy-going attitude. It grows with little additional care and thrives under a variety of light cycles and grow room environments.
It doesn't succumb easily to mould or fungus so if you are growing different strains in one place, humidity levels and temperatures are flexible when working with Jack 47 Fast. It is also the perfect choice for a first-time grower.
Please remember that the growing of cannabis plants and the cultivation of seeds is illegal in some countries - please check the laws of your country and don't be growing any plants if it is against your country's laws.